We follow
Methodology & Approach
At D&M, We are committed to continuously strengthening our partners and products to improve their competitive position. Being consumer-focused we strive to seamlessly improve the processes, brand visibility and brand positioning of our partners and the organisational structures to match and outshine consumer expectations therefore providing them with superior outputs.
Structure is the most vital aspect while we try to reach a summit. We have structured and designed our methodology post numerous interventions and studies which includes Market Surveys, People engagements, Industry feedback. With an objective to engage and optimize the output, we have our current methodology in place which is tailored and exclusive for each MSME business. We stick to our basic process and revisit them quite frequently to ensure we are at par with the needs and trends of our growing business.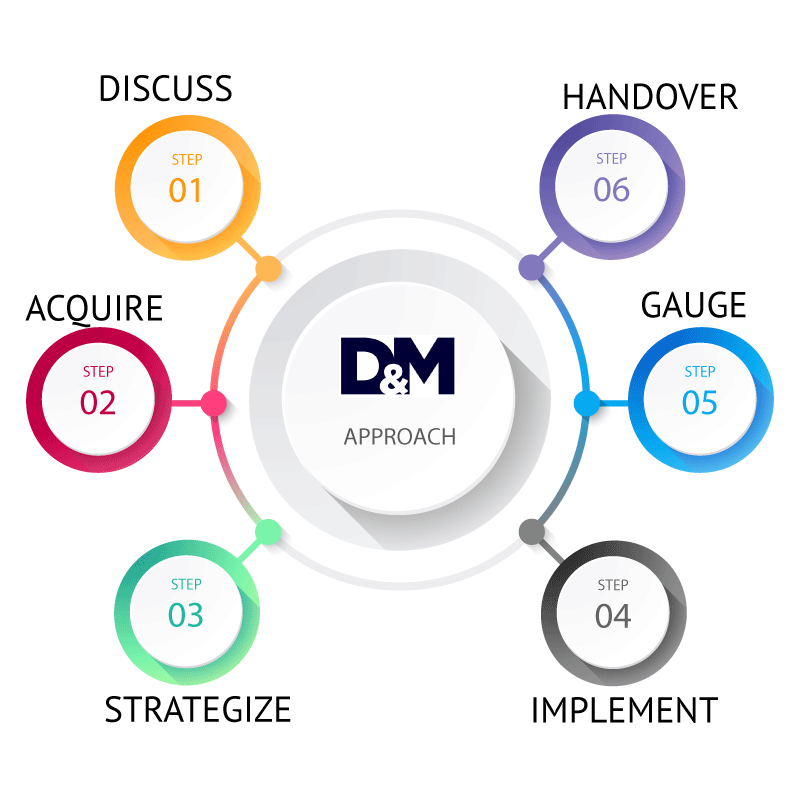 Methodology Process
Consulting Meetings
During our consulting meetings, we ascertain the complexity of the key business indices and build a methodical approach towards it. This plan is diligently followed and implemented during the course of the duration.
ROW (Range of Work)
For every business objective, an ROW is defined which is then worked upon by our experts and is then implemented for enhanced outcome. The ROW takes care of all the crucial and allied concerns so as to address them in the very first go.
Strategizing
Once the ROW is defined, Our Account Specialists design a work around it by staying cognizant to the result orientation. The strategies are developed considering realistic and achievable solutions for the objectives ascertained.
Execution
Post designing agreed strategies with the respective Stakeholder, our specialists will work hand in hand for implementation, optimizing and channelizing the processes for swift, consistent and acute yield. This phase will be under constant monitoring and review on a regular timeframe.
Brand Building
During our Consulting meets, we assist our partners in taking their brand a notch higher on the visibility platform. The transformation can be in terms of Website, Logo, Digital leaflets, Stationeries and Digital Media.
Employee Pulse Survey
Employee Pulse Survey is a key indicator on the Employee Satisfaction and also uncovers the key skill-set missing for them to stay afloat on their roles. As on today, this remains one of the top priorities owing to higher difference in Skilled Employee v/s Availability of the right resource.
Periodic Review
For staying on course with the timelines and gauging the progress of our objectives, We have a review system in place. The review ideally covers the achievement of the previous month, the deviation for the month and also focuses on pending deliverables and corrective measures, if any.